Welcome to AmboGraphics
A passion for color, texture, and movement is the driving force
behind these vibrant works of original abstract digital art
> About the Artist <

Framed Prints

4 1/2 x 6 1/2 art prints on glossy photo paper,
matted under glass in an 8x10 frame

These make wonderful gifts for just about anyone on your list, even yourself
Art & Verse

4 1/2 x 6 1/2 prints accompanied by free-form poetry, matted side by side under glass
in a hinged double 8x10 frame

A charming marriage of image and word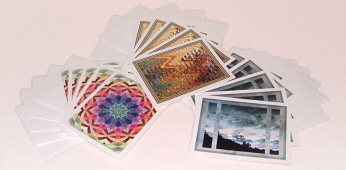 No Ordinary Note Cards

Printed on heavyweight, satin finish card stock
to create a collection of truly unique 5 1/2 x 4 1/4 note cards

Blank inside, so that you can add your own special message to each

Boxes of 10 cards with envelopes

I purchased some of the note cards from AmboGraphics and was very pleased in the quality of this product. The color on the note cards is vibrant. The note cards themselves as well as the envelopes are top quality. Not the thin paper that some cards are made of.

I also appreciate that they are blank on the inside so the card can be sent for any occasion.

I am a buyer for a store and I liked this product so much that I am now carrying them in the store I buy for.

AmboGraphics was also prompt at getting my order to me. I highly recommend this company and the items they sell.
C. Hill
Shopping cart
provided by

Art is good for the soul - share it with someone today!
digital art, original art, abstract art, original digital art, original abstract art, framed art, art prints, gift art, notecards, note cards, blank note cards, blank notecards
Home | Framed Prints | Art & Verse | Note Cards | Ordering Information | Links | Contact | SHOPPING CART
Site design and contents © 2002-2022 AmboGraphics - All rights reserved